Education is the gateway to freedom. Without it we cannot hope to understand our liberties or responsibilities. With understanding of these pieces of the formula comes an awakening within ourselves to the greatness of freedom. Freedom to pursue dreams, career, family, adventure, love, life, and meaning. It all starts with education. It all begins with learning the fundamentals that modern society so often takes for granted: liberty and responsibility. Join with the Responsibility Foundation in educating people everywhere about these fundamental values and the freedom that comes with them.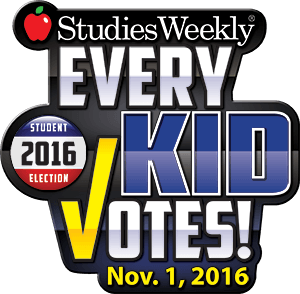 Every Kid Votes
Working together with our strategic partner, Studies Weekly, the "Every Kid Votes" program is the largest student mock presidential election in the United States. Helping K-6 students learn about and experience the election process is a critical step in understanding the responsiblies that come with the liberty we enjoy of picking our leadership.
In addition to this amazing program, kids will also have the opportunity to become a part of history in a way never imagined. While learning about civic responsibility the students will help raise the funds necessary to build the Statue of Responsibility.